Dental Implants in Aventura
Have you ever wondered what your smile might look like if that missing tooth wasn't missing? There are several ways to fill that gap with a "tooth" that looks and feels exactly like your other teeth.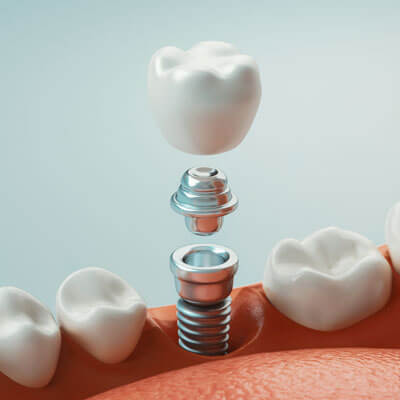 One popular and high-tech way to restore missing teeth is through dental implants. These are used as an alternative to dentures and bridges. Why? Because they have many advantages, including their completely natural appearance, their convenience, and their ability to maintain bone mass—a quality that makes additional tooth loss far less likely.
Exploring The Benefits
These permanent restorations replace missing teeth, and improve jaw structure. They're titanium cylinders surgically placed into the jawbone beneath the gums, where the tooth is missing. Titanium has a unique ability to bond with living bone tissue, becoming a strong root replacement.
Other benefits exist for those unhappy with their dentures. Implant-retained dentures are a good choice for you. We feature All-on-4® same-day tooth replacement, using only four implants to secure your restoration. Also, bridges secured with implants are less prone to develop decay under the bridge.
Are They a Good Choice For Me?
Almost anyone missing a single tooth, multiple teeth, or all teeth, are candidates for dental implants, except for growing children. Patients need to be evaluated to ensure there's enough bone available to secure the implant. If so, the titanium root is surgically placed, and the jaw is allowed to heal for 3-4 months. After it's healed, the abutment and crown are placed, and your new tooth is ready to show the world.
Taking Care of Your Implants
Because they're made of titanium, these "new" roots provide stability to the jawbone without damaging other teeth, and tooth decay doesn't occur. Although you don't have to worry about tooth decay, taking care of your gums is crucial in maintaining them successfully. With good oral hygiene habits at home, like regular brushing and flossing, and consistent professional teeth cleanings, these replacements are easy to maintain.
Just like your natural teeth, the better you take care of your restorations, the longer they will last.
Learn More Today
Our team is always available to answer any questions you have about your dental health. If you're concerned about missing teeth, contact Aventura Dental Excellence today to book a consultation. We'll help you understand your treatment options, and help restore your beautiful smile.
CONTACT US

Dental Implants Aventura FL | (305) 935-2122