Invisalign® in Aventura
Whether you've had braces in the past and your teeth have shifted, or if you're ready to unleash a straighter smile for the first time, we're here for you-and Invisalign® clear aligners may be exactly what you need.
This modern-day orthodontic treatment can help to bring misaligned teeth into alignment without the look and feel of traditional metal wires, making them an excellent choice for teens and adults alike.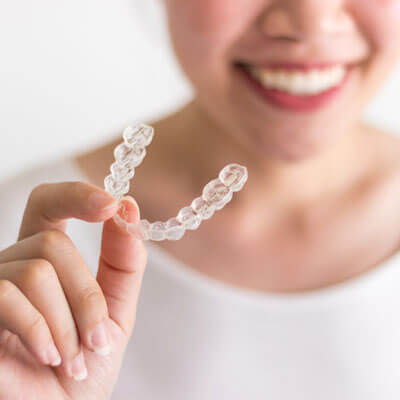 Creating a Straighter Smile
Aside from achieving a straighter smile, clear aligners can help:
Overbites
Crowded teeth
Underbites
Gapped teeth
Crossbites
Open bites
Frequently Asked Questions
How long will my treatment take?
Treatment with Invisalign can finish in as little as six weeks for very minor misalignment cases. However, most patients find excellent results dependent on their needs ranging from six months to 18 months. At your consultation, we can give you a better estimate of how long your care will last.
How often do I need to wear the aligners?
For best results and to finish your care plan on time, we recommend wearing your aligners for at least 22 hours each day, removing them only when you are eating. You will need to wear your aligners when you sleep.
Some patients find the first few days of each new tray produce a feeling of pressure on the teeth, but it resolves rather quickly. Most patients have no complaints about Invisalign during the course of their care.
The cost of your treatment plan will depend on how long you need to wear the aligners for and how many trays you will have. We'll be able to give you a detailed cost breakdown before care ever begins, so there are never any surprises. We take pride in offering honest care.
Learn More Today
Aventura Dental Excellence would love to welcome you into our office and help you unlock a beautiful smile. To learn more and get started today, book a visit by contacting the practice. We look forward to meeting you!
CONTACT US

Invisalign® Aventura FL | (305) 935-2122